Starting Saturday, October 22, 2022, our Chick-Fil-A location at Pensacola International Airport will shut down for planned renovations and equipment upgrades.
Renovations are expected to take 6 to 8 weeks, and in the meantime, PNS has partnered with The Market to provide grab-and-go breakfast, lunch, and dinner options for passengers.
Early risers and morning passengers will be able to choose from breakfast sandwiches, french toast sticks, yogurt parfaits, and assorted muffins and danish. The lunch and dinner menu includes sandwiches, burgers, pizza, wraps, and salads.
Passengers are reminded that in addition to The Market offerings, the Paradies news store carries a wide variety of snacks and beverages, and Einstein Bagel Company continues to serve freshly-made coffee, bagels, sandwiches, smoothies, and pastries.
Thank you for choosing to Fly Easy at Pensacola International Airport.
FALL 2021 Customer Experience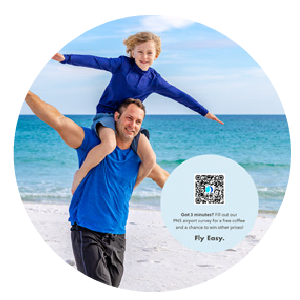 The Fall 2021 PNS customer experience survey was conducted to gather baseline customer perception data from airport passengers, and define and measure metrics associated with the Fly Easy Promise. Data was collected to provide information on passenger satisfaction and experience with PNS facilities, services, staff and amenities, Net Promoter scores and more.
A total of 1,004 complete digital surveys were collected with travelers sharing responses from 41 states and five countries including the United States, Canada, Netherlands, Germany and Brazil.
Average Overall Performance score of 81 out of 100.
Over two-thirds of passengers (79%) rated their airport experience positively, with 32% giving the airport the highest rating of "Impressive."
Net Promoter Score (NPS) averaged a very high 92% and far exceeds similar industry standards in the 50 to 60 percentiles such as hospitality and travel, transportation and consumer services industries.
An overwhelming majority of respondents (80%) said that PNS definitely reflected Pensacola's personality and hospitality.
Airport staff courtesy remained the highest scoring question throughout the duration of the study with an average satisfaction rating of 86%.