Pensacola International Airport launches customer experience initiative, asks passengers to "Let Your Comments Fly"
PENSACOLA, Fla  (July 13, 2021) — Even in the midst of a record-setting year, Pensacola International Airport is still working to improve on its promise to help you Fly Easy. 
PNS recently launched a customer experience campaign called Let Your Comments Fly. The campaign is part of an effort to measure, document, and improve the experience of passengers traveling through the airport. 
The campaign uses an online survey promoted throughout the airport with posters, placards, digital displays, and stickers. With a simple click of a QR code, passengers can rate their experience on a variety of issues, from parking to food choices to security and check-in. Passengers who participate in the survey earn a coupon for a free cup of coffee, and are entered to win monthly prizes as well as the grand prize of a two-night stay at Margaritaville on Pensacola Beach. 
Airport Director Matt Coughlin said the initiative was conceived during the travel slowdown of 2020, as an effort to help the airport come out of the pandemic with a strong competitive position in relation to other airports in the region. 
"The pandemic and resulting drop in travel were very hard on our community, particularly those businesses associated with tourism and travel. Obviously, here at PNS, we felt that impact as well, but we knew it was temporary. So we focused internally during that time, and the Let Your Comments Fly campaign is part of that focus," said Coughlin.
"We know that travelers have several options for airports in the Gulf Coast region, but we want to be their first choice. The Let Your Comments Fly effort engages our passengers in that conversation. It gives us a data-driven plan for how to improve our customers' experience and how we can make PNS a place where you can truly Fly Easy." 
Coughlin said that the customer experience campaign was already yielding helpful information and that he hoped passengers traveling to or from PNS would take two minutes to answer the online questionnaire while at the airport.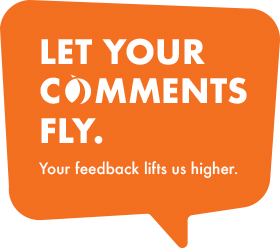 The Let Your Comments Fly campaign began the first week of July and will be collecting passenger feedback throughout the summer and into September. Once the campaign closes in September, the data and responses will be reviewed, and specific action items will be planned to respond to the passenger feedback.