If you've kept up with our latest email or social media updates, you know that things are busy at Pensacola International Airport. We continue to see record passengers coming through PNS, with the latest numbers indicating that the equivalent of a capacity crowd in the Blue Wahoos stadium is coming through the airport each day…twice! 
These passenger increases mean more car traffic and more demand for parking at PNS, as you may have experienced already. To address these issues, we are making the following updates and improvements at the airport.
Parking Rates and Improvements
After a study of surrounding airport parking rates, we will be slightly increasing our full-day parking rates at PNS. This increase will help to fund maintenance and improvements to our parking facilities, including paving the grass lot on Tippin Avenue across from Pensacola State College. 
The rate change will increase the long-term (daily) parking rate by $2 per day for the garage and surface parking areas, and the daily rate by $1 per day for the economy lots. These changes will generate an estimated $1.5 million annually in additional revenue to fund the much-needed improvements at PNS. 
(It is important to remember that as an Enterprise of the City of Pensacola, the Airport doesn't receive any tax revenue collected by the City. Any improvements, additions, expansions, or operations at PNS must be paid for by revenue generated by the Airport, such as parking fees.)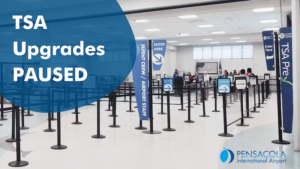 TSA Pausing Checkpoint Replacement Work
The Transportation Security Administration (TSA) is pausing its work replacing the screening machines at the 2nd-floor security checkpoint at PNS. With record-breaking travelers coming through the airport this spring and summer, the agency opted to put the project on hold after concerns were raised by Airport and City officials. 
We appreciate the TSA's decision, and we hope the pause in construction activities will alleviate some of the extended security lines seen over the past few weeks. However, with the projected travelers flying through PNS this summer we still recommend that you arrive two hours before your scheduled departure. 
The remainder of the project is tentatively scheduled to be completed in two phases. The first phase will begin after the July 4th holiday and finish before Labor Day. The second phase will begin after Labor Day. Airport officials will continue to partner with TSA leadership to minimize any further impacts resulting from their equipment upgrades.  
Thank you again for using Pensacola for your air travel needs. We know you have choices, and we appreciate you choosing us. We are working hard to ensure you can continue to Fly Easy with us.