Since May is Military Appreciation Month, we'd like to share a bit about our partners at the USO (United Service Organizations).
If you or someone you know has traveled to Pensacola for military service or training, odds are the USO touched them in some way or another.
Boosting Spirits at Home and Abroad
For many civilians, the USO is known as the sponsor of overseas entertainment for troops stationed abroad. From Bob Hope and Marilyn Monroe to Steve Martin, Katy Perry, and dozens more, the USO brings music and laughter to our men and women serving overseas.

But for military men and women, the USO is much more.

As one of 250 centers worldwide, the USO of Northwest Florida, which includes the airport location and facilities at NAS Pensacola and Corry Station, works to connect and support service members and their families.
Dana Cervantes, Executive Director of USO-Florida, said this:
"The mission of the USO is to keep service members connected to family, home, and country throughout their service to the nation. Because of partners like PNS, we can continue offering a home away from home for military members and their families for years to come."
USO offers various programs for servicemembers, including free phone calls or video calls from troops to their family members back home, distribution of care packages to service members stationed in remote locations, and job transition support for military members and their spouses.
For military spouses, the USO hosts online and in-person "Coffee Connections" for military spouses to share advice, stories, and mutual support. In addition, the USO sponsors a reading program that allows deployed service members to record themselves reading to their children and have that recording sent home so they can still participate in their family's reading time. These and other programs and services are just a few ways the USO supports members of our military and their families.
A Story of Several Service Organizations
Established in 1941, the USO is one of the leading organizations serving U.S. men and women in the military and their families throughout their time of service.
As America was preparing to enter World War II, President Franklin D. Roosevelt wanted to unite several service organizations and attend to the growing needs of the military and their families, both at home and abroad.
So, a combination of several different charities – the Salvation Army, National Travelers Aid Association, the Young Men's Christian Association (YMCA), Young Women's Christian Association (YWCA), National Catholic Community Services, and the National Jewish Welfare Board all united to become, you guessed it–the United Service Organizations (USO).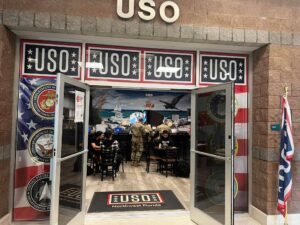 USO at PNS
In addition to providing a welcome station for military members and their families, the Airport USO helps incoming Sailors when they arrive at PNS from Boot Camp. From the moment they step off the plane, USO volunteers escort them to baggage claim, ensure everyone has their luggage, and accompany them to the buses waiting to take them to NAS Pensacola.
In addition, during the holiday season, from December 20th – 24th, volunteers staff the Airport USO center around the clock to support hundreds of service members traveling home for the holidays. While waiting for their flights, service members can enjoy delicious meals, video games, television, areas to rest or relax, and sometimes a massage or some doggy therapy.
At PNS, we also financially support the USO through a fundraiser on one of our runways, the Runway 5K.
"The USO is grateful for the long-standing partnership with the Pensacola International Airport. The airport provides a beautiful space for the USO center and hosts the annual USO Runway 5K, which has raised over $250,000 in support of our military. The airport is such a good partner, and they really care about our military and the USO," said Cervantes.
So, in honor of Military Appreciation Month, we want to say a big "thank you" to our men and women in uniform, and our partners at the USO who take such good care of our servicemembers here and abroad.